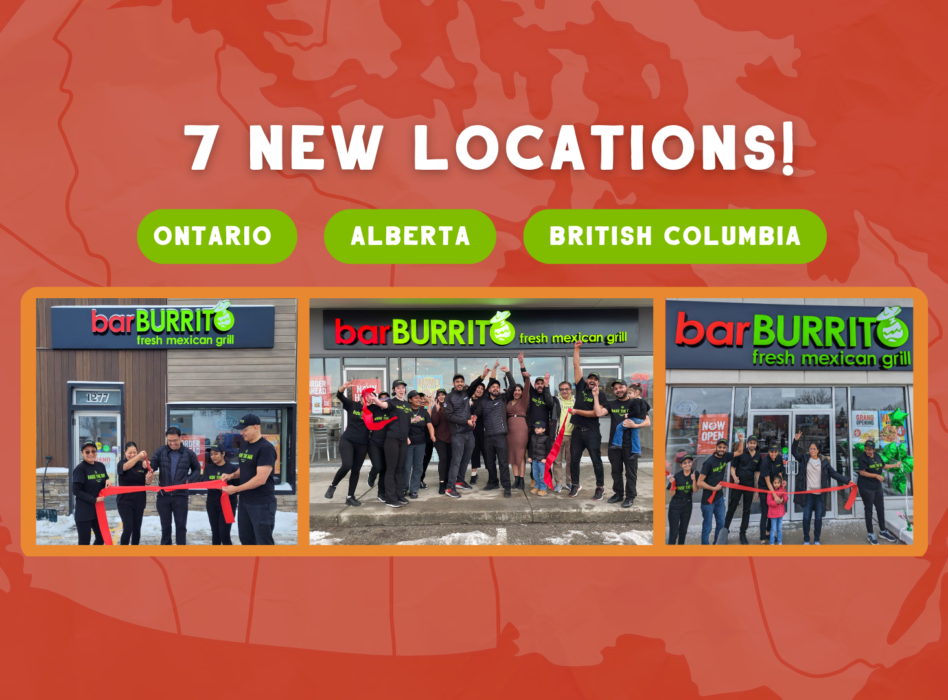 2023 is off to a good start! We've opened another 7 new locations. This time, we have 4 new locations in Ontario, 2 in Alberta, and 1 in British Colombia. Let's travel across the country and take a tour of all the new stores that have opened:
hghg
Ontario:
Smiths Falls: 62 Lombard St, Smiths Falls, ON
Scarborough Cliffside: 2435 Kingston Rd, Scarborough, ON
Amherstburg: 421 Sandwich St South, Amherstburg, ON
Sudbury: 1277 Kingsway, Greater Sudbury, ON
Alberta:
St. Albert – Village Landing: 140 St. Albert Trail, St. Albert, AB
Cochrane: 320 5th Ave, Cochrane, AB
British Columbia:
Vernon: 4400 32nd St, Vernon, BC
Don't be shy! Come by and say hello to our team. We're happy to serve you fresh burritos, bowls, tacos, quesadillas and our new crunchy chicken sandwiches made exactly the way you like! 
---
Where do you want our next BarBurrito location to be?
Find a location near you.