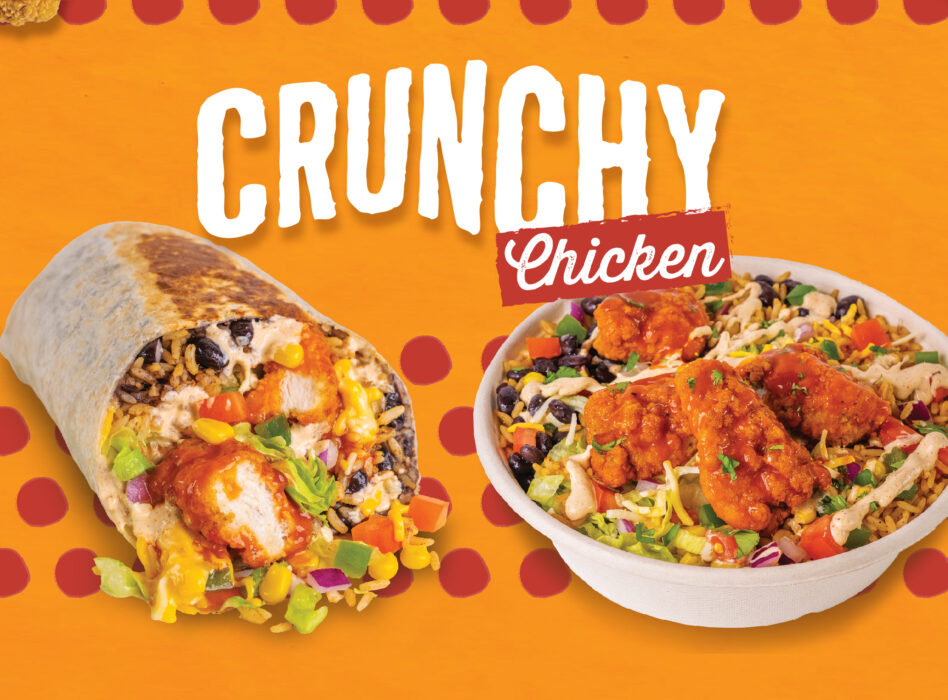 Our new Crunchy Chicken is here for a limited time only. You can enjoy our Crunchy Chicken in a variety of ways, either in a burrito or bowl, as well as mixed and matched with tons of different sauces. Not sure how you want to customize your Crunchy Chicken? Let us show you the many possibilities!
You begin by deciding: burrito or bowl?
Crunchy Chicken Burrito
Perfect when you're on the go! A warm and toasty tortilla filled with your choice of rice, beans, lettuce, cheese, salsa, and a fiesta of toppings and sauces to spice up your burrito.
Crunchy Chicken Bowl
Not a tortilla type of person? That's ok! Grab a warm bowl with all the works and add your Crunchy Chicken!
Crunchy Chicken Style
Next step, how do you want your Crunchy Chicken sauced? We provide three different options:
Naked (No Sauce)
Are you looking for something nice and simple for your taste buds? We suggest grabbing your crunchy chicken plain!
Buffalo Style (Tossed in Franks RedHot)- Mild Spicy
Tossed in Franks RedHot sauce, our Buffalo Style Crunchy Chicken is perfect for those who love some spice!
Tangy Style (Tossed in Bang Bang Sauce)
If you were a fan of our Bang Bang Shrimp, you're going to love our Tangy Style Crunchy Chicken! Tossed with our Bang Bang Sauce, it creates a sweet and spicy flavour. We suggest pairing it with a Lime Jarritos!
Make your burrito or bowl extra saucy by adding 1 of our 7 sauces!
Ready to try out the Crunchy Chicken? Order Now.